Local. Family Owned. Trusted.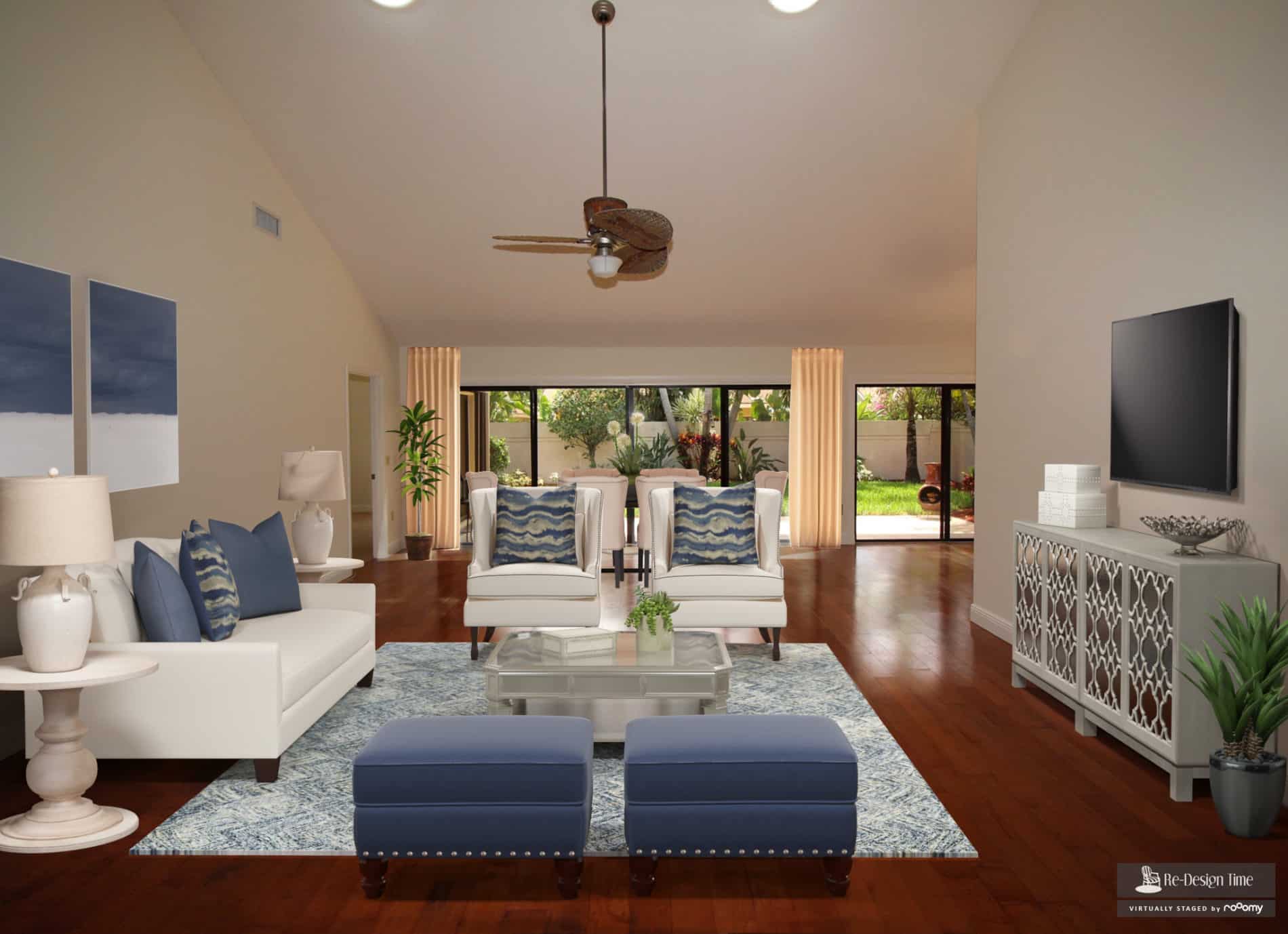 Enhance Your Home with Expert Room Designer Furniture Placement in Jupiter, FL
At Re-Design Time, the customer always comes first. We take pride in offering the highest quality products and service in the industry.
Are you rethinking the layout or design of a certain room in your home? This isn't uncommon among homeowners, as your style changes over time. Not to mention, the layout of your furniture and decor is more important than most people give credit to. The placement of your furniture can dictate how good a room will look, how it will function, how open your room will look, and how well it matches the flow of your room. If you have a chair that you have to deliberately walk around to leave a room, it likely isn't in a spot that your room would best benefit from.
Furniture placement can open up a room and make it feel bigger or cut off the space and make it look much smaller than it is. For guidance on giving your room the best chance to flourish with decor and furniture placement, you need the help of a professional that provides room designer furniture placement in Jupiter, FL, like Re-Design Time. We have what it takes to provide you with the best room furniture placement services in the area.
Optimize Your Living Space with Professional Furniture Placement in Jupiter, FL!
Re-Design Time is a reputable, locally-owned, and reliable company that specializes in furniture placement in Jupiter, FL. Our team is talented and knows how to enhance the look of your room and bring life back into it. We have experience and skills under our belts, and we utilize them with every job we do to ensure that your space gets the upgrade it needs. We offer a range of services that will meet your needs. Whether you're looking for a living room refresh service or a bedroom furniture placement service, you can count on us!
There are several advantages to hiring a room planner, like us, to assist you with a room refresh service, which include:
Our experience and qualifications – Over the years that we've served the community, we've gained the necessary experience to provide you with stress-free services and stunning results.
Our eye for design – While homeowners can try and redesign or refresh a room in their home, it's not necessary. There isn't a guarantee that you'll be happy with the final product after the effort you've put in to refresh your home. When working with us, we will sit down with you for a consultation where we will check out your space and get a feel for what exactly you're looking for. We will work hard to provide you with a final design that will provide you with a more open space and one that is functional when it comes to your everyday life.
Our affordable services – What if we told you that you could have the living room or bedroom of your dreams without breaking the bank? The good news is you can! We offer affordable prices because feeling comfortable and happy in your living space shouldn't be a luxury, it's a necessity. We believe that you should love the space you live in, and we would be proud to be the company that gets you to fall in love with your home again.
Call us today to schedule your consultation.
We want to help you find fresh color and style you love for your home.
We had a wonderful experience with Kathy. She made what looked like and impossible task very manageable. She organized the project in steps which made is much easier to accomplish. She provided vendors and stores that we were not even aware existed. The upgrade of our home came out very well. Beyond our expectations. I would recommend her to anyone.
The canvas prints Kathy had made were perfect for my listing. She is a gifted designer and her customer service is superb. I highly recommend her and I WILL seek her services again soon. Thank you for helping me in such short notice.
Kathy did a fabulous job. She took our current furniture and belongings and re-configured them to make our home so much more comfortable and presentable. Thanks so much Kathy.
Efficient Room Layout & Design Planner Services in Jupiter, FL
The process of trying to re-up the current design and layout of your room can be quite overwhelming. It can be challenging to know where to even begin. When you're around your current decor every day, it can be difficult to create a new picture or envision what exactly you're looking for. Not to mention, not every homeowner has a free weekend available to dedicate to refreshing their home. This is where our room design planner comes in.
We will work with you to develop a plan that you're happy with, and then you can sit back and relax while we do all of the heavy lifting. To give your room the facelift that it's overdue to have, we will move decor and furniture around to give your space a more open concept plan using the layout and flow of your room. You no longer need to renovate your room to give it a new look. Our furniture layout planner can give you a transformative look just by focusing on the decor and furniture placement of your space. You can trust that your home is in good hands with our room refresh in Jupiter, FL. 
Call Today to Transform Your Room with a Strategic Furniture Layout Planner in Jupiter, FL!
Have you been searching for a room layout planner in the area? Look no further than Re-Design Time! We look forward to taking the look of your room to the next level. To learn more about our services or for a consultation, make sure you contact us today!